Guitarist Giorgia Cavallaro performs with VOICES XXI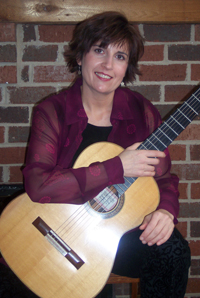 Guitarist Giorgia Cavallaro joined VOICES XXI in concert on May 20 and 21 as both accompanist and soloist. She is considered one of the D.C. area's leading guitarists, with performances at many prominent area-wide and international venues. Ms. Cavallaro is a winner of the Montpelier Soloist Award, and as an international competition winner, was awarded study and performances in Santiago de Compostela, Spain.
Ms.Cavallaro is co-founder with flutist Joseph Cunliffe of the group Flutar, which recorded "Dreams of Suchitlan," a work inspired by their 1991 tour in El Salvador. They were invited back to that country several times and in 1998 were sponsored by the United States Information Service and awarded the title of "Artistic Ambassador" for their outstanding artistic contributions.
Ms. Cavallaro's compositions on her recording "Journey's Crossing" with Flutar have been featured on National Public Radio in Washington, DC. This collection of original compositions illustrates the plight of endangered animals and brings the message of conservation and preservation. She has also recorded a recent collaboration with guitarist Philip Mathieu entitled "20th Century American Guitar Music," and is preparing to record music for solo guitar this year.
Giorgia Cavallaro has served as Guitar Chair for the American String Teachers Association MD/DC chapter, as coordinator of guitar events and activities, and as a contributor to their magazine Stringendo. She has adjudicated for the national finals of the MTNA Student Competition and for the VSA arts Panasonic Young Soloist Award.
Ms. Cavallaro is on the faculty at the University of Maryland, College Park, and at Catholic University of America; she directs the universities' programs in guitar studies.