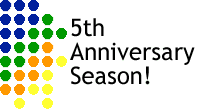 Paul Criswell named Composer-in-Residence for 2004-2005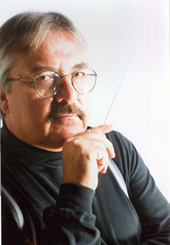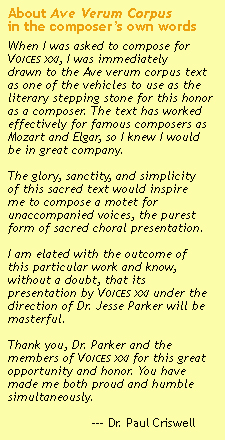 VOICES XXI named Dr. Paul Criswell as its Composer-in-Residence for 2004-2005, the chorus's 5th anniversary season. A new composition by Dr. Criswell was premiered at the chorus's Gala 5th Anniversary Concerts in June 2005.
Dr. Criswell is chairman of the Department of Music at Lander University in Greenwood, S.C., and also serves as Lander's director of choral activities and composer-in-residence. He holds B.M. and M.M. degrees from West Virginia University (WVU) and has a Ph.D. in Music Education from the University of Maryland. Dr. Criswell studied composition with Dr. Thomas Canning at WVU and has attended composition seminars and workshops with David Diamond, Ned Rorem and Aaron Copland. He has won several composition competitions and is in demand for commissions from ensembles and artists throughout the United States.
VOICES XXI performed Dr. Criswell's arrangement of the advent carol Lo, How a Rose E'er Blooming at the chorus's first concert in December 2000.
VOICES XXI is committed to commissioning and performing new works for chamber chorus. Dr. Carolyn Bock was appointed the group's first Composer-in-Residence in the 2001-2002 season. Her Snippets, Whispers, Shadows and Charms, a seven-movement suite for chorus, Native American flute and percussion was given its premiere in Spring 2002.