Dortha "Dottie" Orr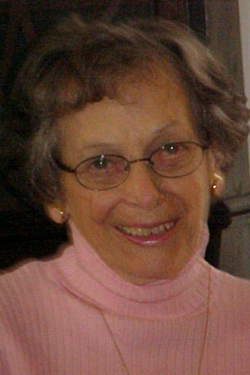 People always say that only two things in life are certain: death and taxes. One could add to that very short list: music enriches lives.
Dottie Wilkin was born on October 31, 1926, at the family farm near Woodstock, Virginia, in the Shenandoah Valley. She grew up listening to country and bluegrass music playing through the floor model radio that sat in the living room, next to a coal burning stove that heated the house. A picture of American life worthy of depiction by Norman Rockwell for the cover of the Saturday Evening Post!
After graduating from Woodstock High School and the Shenandoah Business College, Dottie moved out of the Valley and headed for the Big City – Washington, D.C. – to seek her fortune. It was there that her friendship with her brother-in-law, Jack Orr, blossomed into love and marriage. The newlyweds moved to Hyattsville, Maryland, where Dottie became a homemaker, a mother, and worked at the local elementary school and First Baptist Church of Hyattsville.
Whether Dottie was perfecting her talents at baking or sewing (she became skilled at creating beautiful wedding and special-occasion cakes for friends and family and was proficient in making suits, dresses, gowns, and slipcovers and even ventured into re-upholstery), she always kept music playing in the home. Dottie was enamored of Bing Crosby and loved to listen to Elvis Presley (but declared she didn't want to watch him perform). Her daughters, Donna and Diane, whether genetically or through exposure (the old nature versus nurture conundrum), inherited her love of music. In fact, Diane's first musical memory was playing in the den while Dottie ironed clothes and watched the Jimmy Dean and Porter Wagoner shows. Music flowed through Dottie's and her family's lives.
Although Dottie had a lovely voice and a good ear, she was content to sing from the church pew and during car trips "down home." It was a different matter for her daughters. Donna concentrated on playing clarinet. Diane sang. It was her voice that brought Diane to Paul Traver's University of Maryland Chorus where she sang and performed with world-class orchestras and travelled the world performing the large choral classics. And it was her voice that brought her to Voices 21, as a founding member, under Jesse Parker.
Jack and Dottie always supported their children's interests and passions and never missed attending performances (band or choral). Dottie made friends wherever she went. Even her daughters' former classmates would stop by and visit Jack and Dottie when they were in the neighborhood. And their friendship also extended to Voices 21. Certain members knew the Orrs from Diane's days with the Maryland Chorus but new friendships formed when the Orr clan traveled with Voices to Paris in 2003 and Ireland in 2007. And it all began in the Shenandoah Valley with a young girl listening to music.