About Voices 21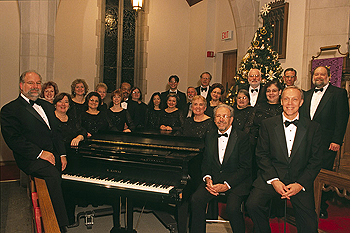 The chamber chorus VOICES 21 — a select ensemble for the 21st century – was formed in the fall of 2000 by founding director Dr. Jesse Parker. The chorus performs in churches, retirement communities and other venues in the District of Columbia and suburban Maryland. It specializes in a cappella repertoire of the 15th, 16th, 20th, and 21st centuries, focusing on rarely performed and little-known masterpieces.
VOICES 21 is also committed to the performance of new works for chamber chorus. It appointed Dr. Carolyn Bock its first composer-in-residence in the 2001-2002 season, and premiered her Snippets, Whispers, Shadows and Charms, a seven-movement suite for chorus, Native American flute, and assorted percussion, in the spring of 2002. Dr. Paul Criswell was named composer-in-residence in the 2004-2005 season. His Ave Verum Corpus was given its first performance in June 2005, his Sussex Carol in December 2005. The two Criswell works are dedicated to Jesse Parker and VOICES 21. In observance of its 10th anniversary season (2009-2010), the chorus commissioned and performed two new works — a Christmas piece, I Have No Music (A Composer's Lament), by Washington-area composer and arranger Jerry Brubaker; and Night Sings to Morning, a three-movement suite for mixed chorus and guitar, by Minnesota-based composer and guitarist Jeffrey Van.
VOICES 21 also engages in periodic travel abroad. The chorus made its European debut in June of 2003 with performances in Paris and Amboise, France; it returned to Europe in June of 2005 for performances at Asolo and Pistoia, Italy. The group's most recent tour abroad was to Ireland in June of 2007 for performances at Ennistymon and Cresthaven.
The members of VOICES 21 are all experienced choral singers whose individual credentials include performances in the United States and Europe with renowned conductors and orchestras.
Membership is open to all by audition.
Click here to make a donation and join the VOICES 21 family!