Bill Martin
My Friend Bill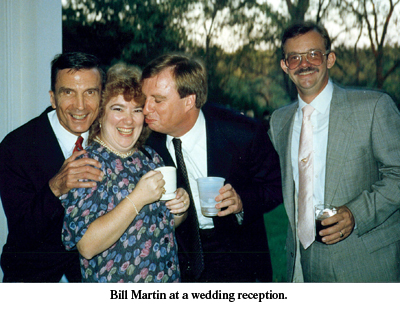 It was a Tuesday evening after a University of Maryland Chorus rehearsal when I first met Bill Martin, standing in Parking Lot 1. Rain was pouring down as he looked under the hood of his car to jury-rig something with wire coat-hangers. We had not yet been introduced but I recognized him as a fellow chorus member, so I walked over and provided the only assistance I could—I held my umbrella over him while he completed his repairs.
That was the beginning of a friendship that would last for almost 20 years. Over those years we had standing Friday lunch "dates" at the rooftop cafeteria at the Department of Labor where I worked. He sang at our wedding and the weddings of other friends (see photo at right).
Bill helped my husband Rupert and me to refinish an old upright piano; weather permitting, he and Rupert frequently played tennis together on Sunday afternoons and then Bill stayed for dinner. We attended opera together—I saw my first complete Ring Cycle with Bill when the Berlin Opera brought their production to the Kennedy Center for a Wagner marathon.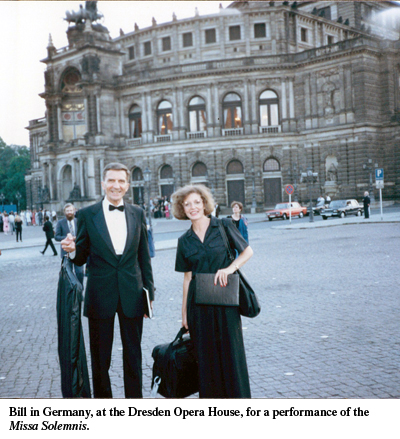 We traveled together with friends and my family to England, Scotland, and France, not to mention tours across Europe with the Maryland Chorus (Dresden, Berlin and Switzerland photos at right and below); Bill celebrated Thanksgiving, Christmas, and the 4th of July with my family, and always partook of our family's Labor Day tradition of a picnic dinner followed by a musical production at Wolf Trap (Christmas and Labor Day photos below). We had a friendship that felt like family.
To an outsider, our friendship ended in March 1999 when Bill succumbed to cancer, but our friendship is still ongoing. Every Monday for the past 9 years, I have had the pleasure of rehearsing with many of our mutual friends and continuing our interest in choral music with Voices 21. The founding of Voices 21 was made possible because of an initial bequest from Bill, so for me, he is still very involved in my life. That is the reason I wanted to dedicate this season's March concert, the Fauré Requiem, to Bill. It was a piece he lobbied, without success, to get the Maryland Chorus to perform – so I am pleased that Voices 21 is performing the Requiem in his honor.
-- Jane Denney, member Voices 21
Memories of Bill from the members of Voices 21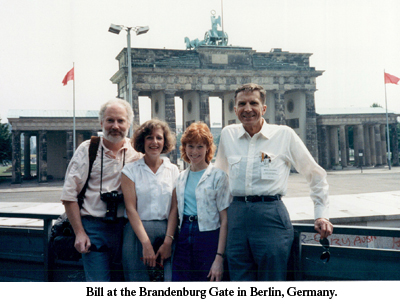 Bill was a great friend of the arts and supporter of music. He was also a friend to many of the current members of Voices 21. The following are some memories of Bill Martin we would like to share:
Bill's thoughtfulness: We landed in Munich at the start of a 4-week European vacation/tour and one of the wheels of my luggage broke. Bill scoured the shops surrounding our pensioner and surprised me with a wheeled luggage carrier. Also, when I was unable to afford the trip to Switzerland to sing at Antal Dorati's [conductor of the National Symphony and Royal Philharmonic orchestras] memorial service, Bill brought me back a souvenir: a small, carved wooden Swiss-brown cow. Bill remembered how enamored I was of the Swiss-Browns. I called her "Trudy."
—Diane O. Sawtelle, member Voices 21
Bill's joy: Bill's genuine pleasure when told how handsome he looked in the sweater he tried on in a St. Moritz giftshop. He bought the sweater and wore it often. Also, his unabashed glee riding down the ski lift outside Vaduz, flying through the air surrounded by beautiful mountain vistas.—Diane O. Sawtelle, member Voices 21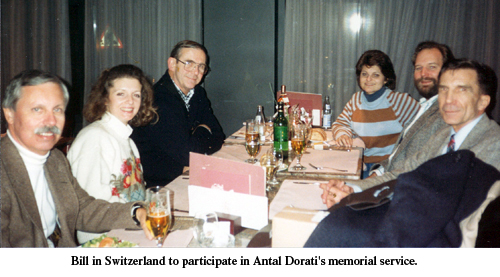 When I hear Bill Martin's name, I think of Switzerland. On a day off from the St. Moritz Choral Festival, I ran into Bill in town shopping—with two younger women helping him select and buy a sweater—and realized the man was a genius.—Jesse Parker, Music Director Voices 21
Bill was always pleased [to have long conversations] when he discovered that anyone knew about airplanes and/or automobiles . . . otherwise he seemed an introspective chap.—Harold Seifried, member Voices 21
Words of wisdom from Bill Martin: When traveling, always use the toilet (loo, WC, whatever)—whether you need to or not—before you leave the hotel.—Pete Chadwick, member Voices 21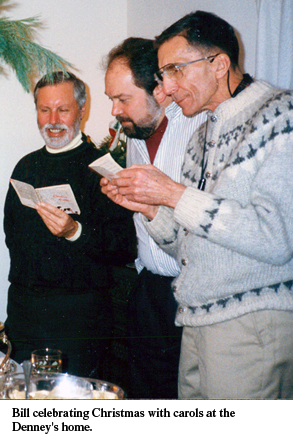 Other travelling advice from Bill Martin: The best way to see a city is on foot. So with Bill leading a group of us, we set out walking with the Eiffel Tower as our destination. We walked for hours and hours passing the Paris Opera House, La Place Vendôme and the Hotel Ritz, the American Embassy, the Louvre, the Musée d'Orsay, always with the Eiffel Tower in our sights but just out of reach. Once we finally reached our destination we were rewarded with even more beautiful views of Paris from the top of La Tour Eiffel. We taxied back to our hotel.—Jane Denney, member Voices 21
In 1984, after being away from the University of Maryland Chorus for a couple of years, I returned on the eve of the trip to Puerto Rico to perform in the Casals Festival. During rehearsals for the concerts Bill and I renewed our friendship and when it came time to choose roommates for the trip, Bill and I decided to room together. While pleased to have a friend as a roommate for the tour, I was worried about my snoring bothering Bill. In typical fashion, when I told Bill of my concerns he said, "Well I can't hear, so we're a perfect match."—Ed Stawick, member Voices 21
BIOGRAPHY
(reprinted from the April 15, 1999 memorial service program book)
William Lee Martin was born at home in Crafton, Pennsylvania, a suburb of Pittsburgh. Bill grew up in Pittsburgh but also spent many summers in West Virginia – his paternal grandparents, the Martins, had a farm in Metz, and his maternal grandparents, the Blenkos, had a hand-blown glass manufacturing company in Milton. He remained in Pittsburgh to attend one of the "local" colleges—Carnegie Tech, now known as Carnegie-Mellon University, where he earned a bachelor of science degree in electrical engineering.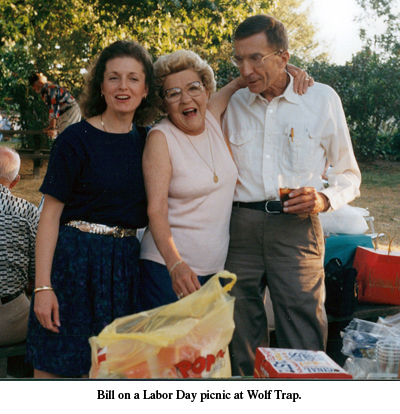 Bill's life revolved around his three careers. The first career began when Bill received his commission as a Lieutenant in the United States Air Force in 1943; he served as a pilot during the Korean War, and retired as a Lieutenant Colonel in 1967. Bill's second career brought him to Washington, D.C. and the Pentagon where he worked for the Defense Communications Agency for more than 20 years as an advisor in contract management and budget. Bill began his third career – being a volunteer – while he was still with the Pentagon but his commitment to volunteerism grew after his retirement in 1989. He was a docent at the Smithsonian's National Air and Space Museum, giving tours every other weekend to museum visitors. He supported the arts as a Friend of the Kennedy Center by faithfully serving behind the Center's information desk on Wednesday evenings; he volunteered for the Washington Performing Arts Society and was a familiar landmark to WPAS patrons entering the Concert Hall foyer where he manned the WPAS subscriber information booth. Bill gave not only his time but also his voice to the University of Maryland Chorus which allowed him to indulge another interest, traveling, as the group performed in Puerto Rico, England France, Belgium, Switzerland, Germany, and Russia. Finally, Bill joined the Washington Opera Guild in 1991, worked in the area of artist's hospitality and became the only volunteer to ever receive the Opera's Volunteer of the Year Award twice, in 1994 and 1998. He was a lover of tennis, music, people, planes and books. Lots of books.