Mary G. Dawson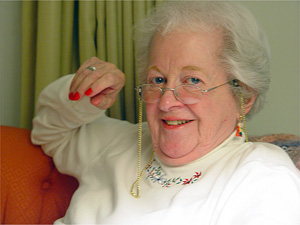 VOICES XXI lost a dear friend on April 29, 2005, when Mary Dawson died of cardio-respiratory failure at age 80. She was a faithful audience member, a generous supporter, and a delightful traveling companion. We had a conversation with her in late February 2005 at her apartment at Asbury Methodist Village in Gaithersburg. Here is some of what she said.
Mary "married into" her interest in and association with choral music. In his youth, her husband Bill was a student at St. Peter's Choir School in Philadelphia and a member of the St. Peter's Choir of Men and Boys. The Choir often sang at the Academy of Music with Leopold Stokowski and the Philadelphia Orchestra, so Bill grew up in a rich choral environment. He shared his love of choral music with Mary; they both sang with The Mendelssohn Club, a Philadelphia oratorio society, for many years.
Mary traced her friendship with the singers of VOICES XXI to the early 1980s; at that time, her son John was a graduate assistant working with the Maryland Chorus. Through John, she met a number of singers who are now with VOICES XXI, as well as Music Director Jesse Parker. These friendships were strengthened in 1985 as she and Bill traveled to Switzerland with the Maryland Chorus. So, when VOICES XXI was founded in 2000, she already knew and had shared experiences with many of our singers.
Mary loved classical music and felt it was "terribly important" to support music in our communities. She noted that she and her husband were among the first contributors to the Maryland Handel Festival at its inception in 1981, and that this support continued throughout the lifetime of the Festival. The Dawsons were also among the earliest and most generous supporters of VOICES XXI.
But Mary's support was not just financial. She and her niece Ann Sidone traveled to France with VOICES XXI in the summer of 2003 and were part of our "traveling audience." Although Mary used a prosthesis after losing part of her right leg in 1987, she seemed to have no problem keeping up with the rest of us, and even attended our concert at Chateau Royal d'Amboise, a 15 th -century estate high atop a hill overlooking the Loire Valley. Mary reported that they had a marvelous time on the trip, and added that she would give almost anything to go to Italy with us in June of 2005.
VOICES XXI had the sad honor of singing at Mary's funeral on May 7, 2005 at St. John's Episcopal Church Norwood Parish in Chevy Chase.