Virginia A. Brubaker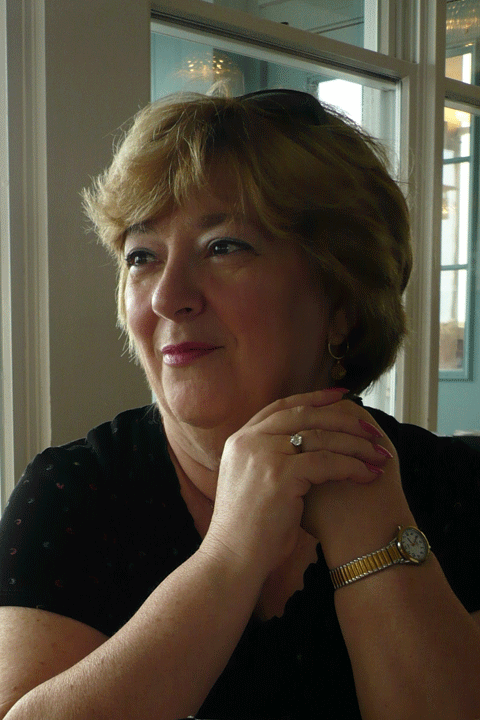 One of the great mysteries in life is time: a two-day break can feel like a week-long vacation and a year gone by can feel like yesterday.  It seems like just yesterday that our dear friend Ginny Brubaker was singing with Voices 21, when, in fact, her voice has been missing from our ensemble this entire season.  Ginny sang her last concert with Voices 21 on June 5, 2011; she ended her battle with cancer on July 23, 2011.  As we close this season without our dear friend's voice we want to remember her life.
Ginny Brubaker was born on October 24, 1948, in Reading, Pennsylvania – the only daughter of the late Sarah and Joseph Boczar.  She grew up in Leesport, Pennsylvania, surrounded by wonderful things – beautiful toys, a loving family, the gift of music – all of which Ginny meticulously cared for her entire life.  At the age of ten, she began studying piano with Kathryn Schiffner, who quickly added voice lessons to Ginny's studies because she was already singing away.  A year later, Ginny (now eleven and the youngest student ever selected) sang with the Reading Symphony in the Bynden Wood Music festival.  Her career in music had begun.  Then at age 13 Ginny suffered her first defeat when she lost during her appearance on Ted Mack's The Original Amateur Hour – the 1960's version of Star Search–to some guy playing spoons!  Undaunted, Ginny continued along her musical path, landing the leading role of "Maria" in her high school's production of West Side Story, and, in 1966, deciding to study applied voice at the Eastman School of Music.
The decision to attend Eastman was a turning point in Ginny's life.  There she studied voice with Josephine Antoine (coloratura soprano with the Metropolitan Opera from 1936 to 1948), and met a fellow student (of the French horn), Jerry Brubaker.  In 1970, Ginny graduated from Eastman and married Jerry that September.  Jerry, upon his graduation two years earlier, had joined the United States Navy Band, so the newlyweds settled into married life in the Maryland suburbs of Washington D.C.
The stability of Jerry's stationing allowed Ginny to develop long-term musical associations in the greater metropolitan area.  She was Soloist and Principal Cantor at the Basilica of the National Shrine of the Immaculate Conception, under Leo Nestor, from 1984 to 2003.  She also sang with the University of Maryland Chorus, under the direction of Dr. Paul Traver, from 1980-1999.  There she was not only a chorus member but also occasional soloist (notably for the Saint Saens Christmas Oratorio), secretary and general Girl Friday.  In her last years, she also sang in the choir at St. Ann Catholic Church in Washington, D.C. and was the soprano section leader and soloist with the Fort Meyer Choir, from 2005-2011, although she sang innumerable funerals at the Old Post Chapel at Arlington National Cemetery since the 1980s.  Finally, Ginny sang with Voices 21 from its inception in 2000 until her final concert in June 2011 – eleven seasons in all.
Ginny had the rare quality of being able to sing in ensembles of any size (15, 20, 30, 100, or 250 voices), blending beautifully with those around her, whether it was a large soprano section or just one petite red-head standing beside her.  But when the opportunity came for her to step outside of the group and perform a solo, she had her distinctive voice that could carry over any number of singers and instrumentalists.  She truly had a beautiful gift that she readily used and gave to her community.  In fact, she considered her participation in the funerals at Arlington Cemetery one of her greatest contributions; now it is her resting place.
Of course, her voice and musical skills were just a part of what made Ginny special – she was a lover of cats, a fabulous baker, a consummate traveler, a gardener, a voracious reader, a fashionista, and a special friend.  We know she is now lending that beautiful voice to yet another ensemble – a chorus of angels!